Lazer Star Lights News
Plug 'n' Play LX LED Headlight Capsules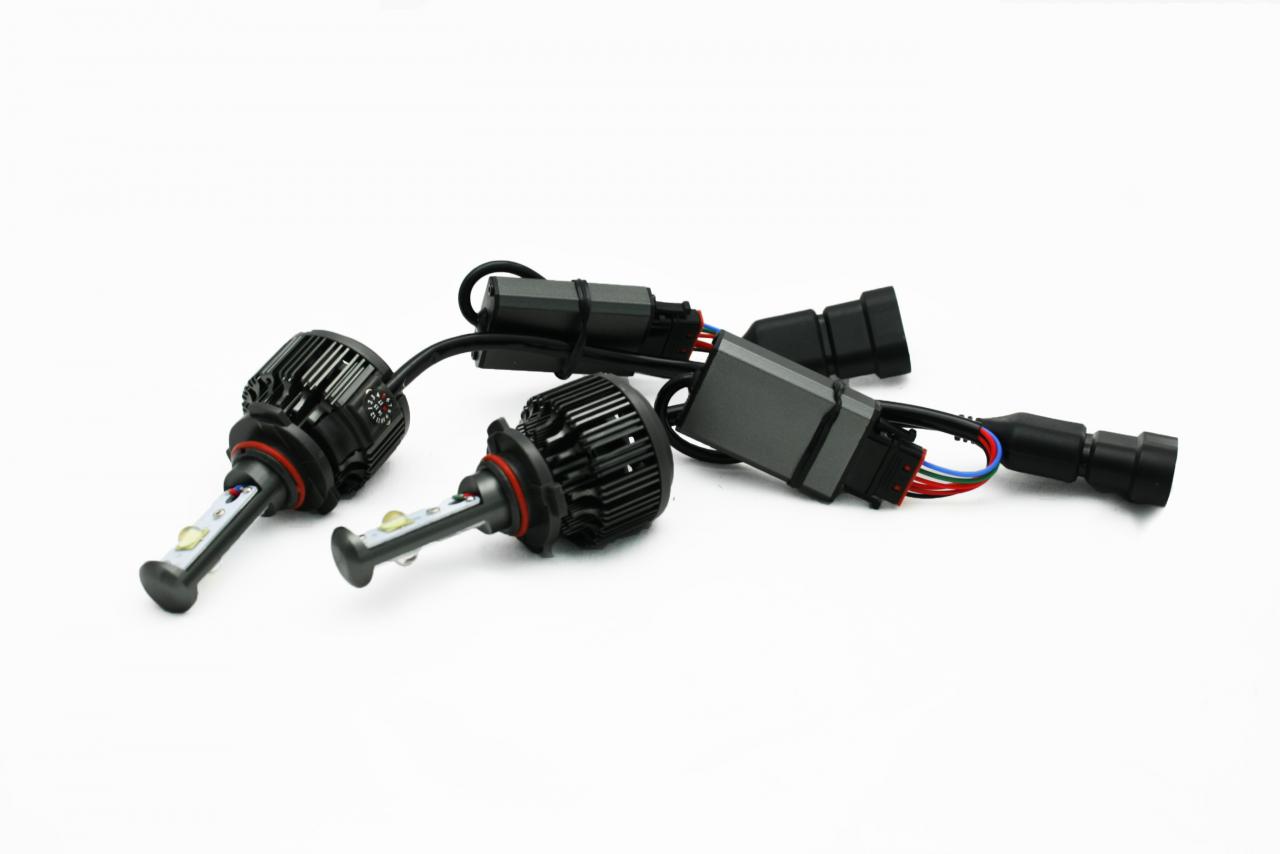 LED headlights offer consumers added safety with improved visibility of the road as well as objects ahead. Lazer Star Lights is now offering a selection of bulb bases to fit many vehicle year/make/models in a single beam or high/low beam configuration. Specific solutions are available for:
Majority of Harley Davidson Motorcycles with OEM Halogen lights (H4 - PN: 5751440)
The Jeep JK 2007-2017 (H13 - PN: 5751340)
The Polaris Ranger, RZR 800, RZR 900, and most that are equipped with OEM Halogen lights (H13 - PN: 5751340)

As well as many more Year/Make/Model vehicles.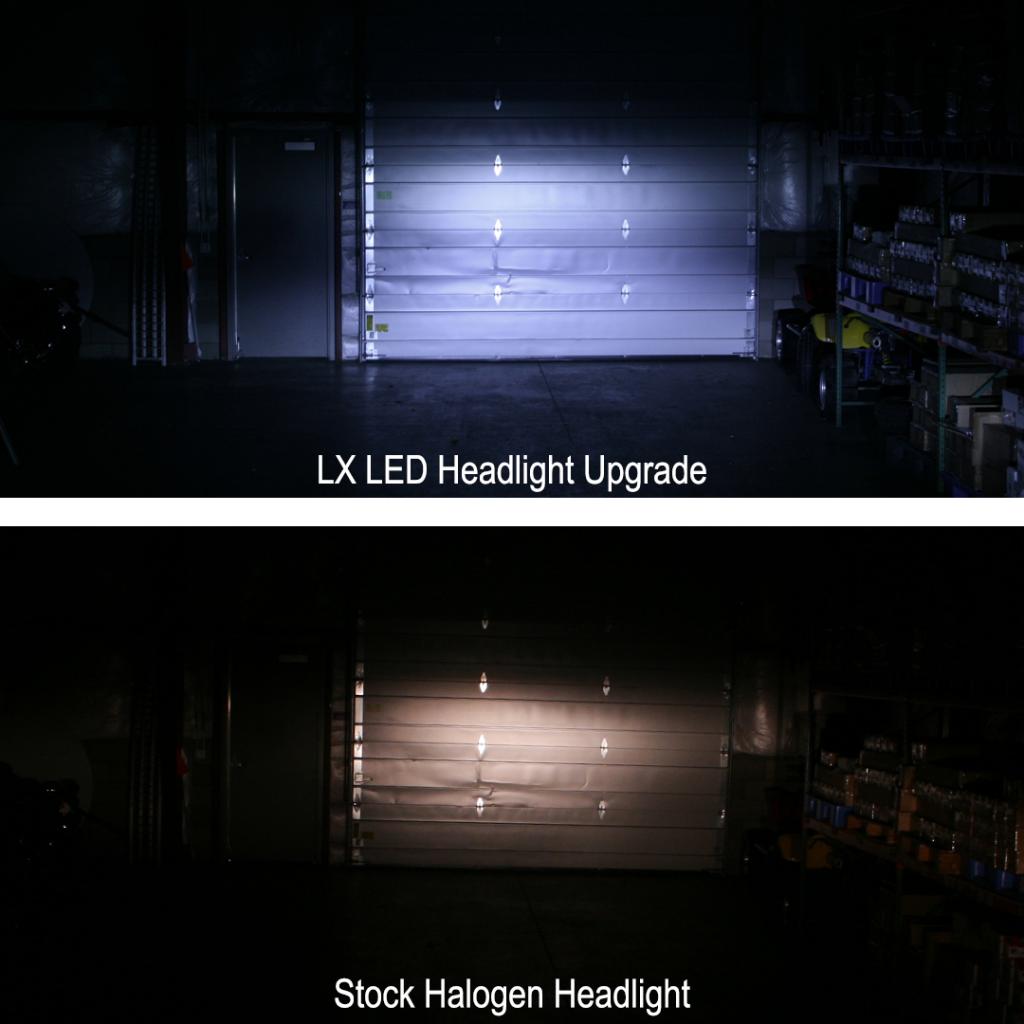 As Featured in ATV World Magazine:
"An economical plug and play LX LED Upgrade Capsule can drastically improve headlight performance on UTV's or ATV's that still come with Halogen headlights." - Nick Nelson, ATV World Mag.
Our LX LED capsules feature the best in CREE LED chip technology. The LED fixture boasts a durable design featuring an active-cooled heat sink for maximum LED performance, offering a longer LED lifespan. The 6000 kelvin color temperature delivers optimal cool white light which enhances driver visibility and relieves eye fatigue in comparison to a standard 3500 kelvin halogen bulb. All LX LED Headlight Capsules are covered under a 3-Year warranty for any functioning defects.
---
Lazer Star Lights Creates Mounting Solutions for your Stock
Polaris RZR, Can-Am X3, or Yamah

a YXZ.
The ever growing UTV sector of off-roading requires quality lighting solutions, and Lazer Star Lights has created various light mounting options for the three top-selling UTV's in today's market. Designed, created, and shipped all from the USA, you can rest assured that the UTV Mounting Brackets from Lazer Star Lights are well designed, reliable solutions made to perfectly mate Lazer Star Lights to your vehicle.
All Lazer Star UTV Brackets utilize pre-existing bolt/tubes/pre-drilled holes on your stock UTV to allow for an easy and clean installation.
Prices range from $39.99 - $139.99 (+Tax, S+H) for all UTV brackets. Lights are sold separately. Some light and bracket kits are available.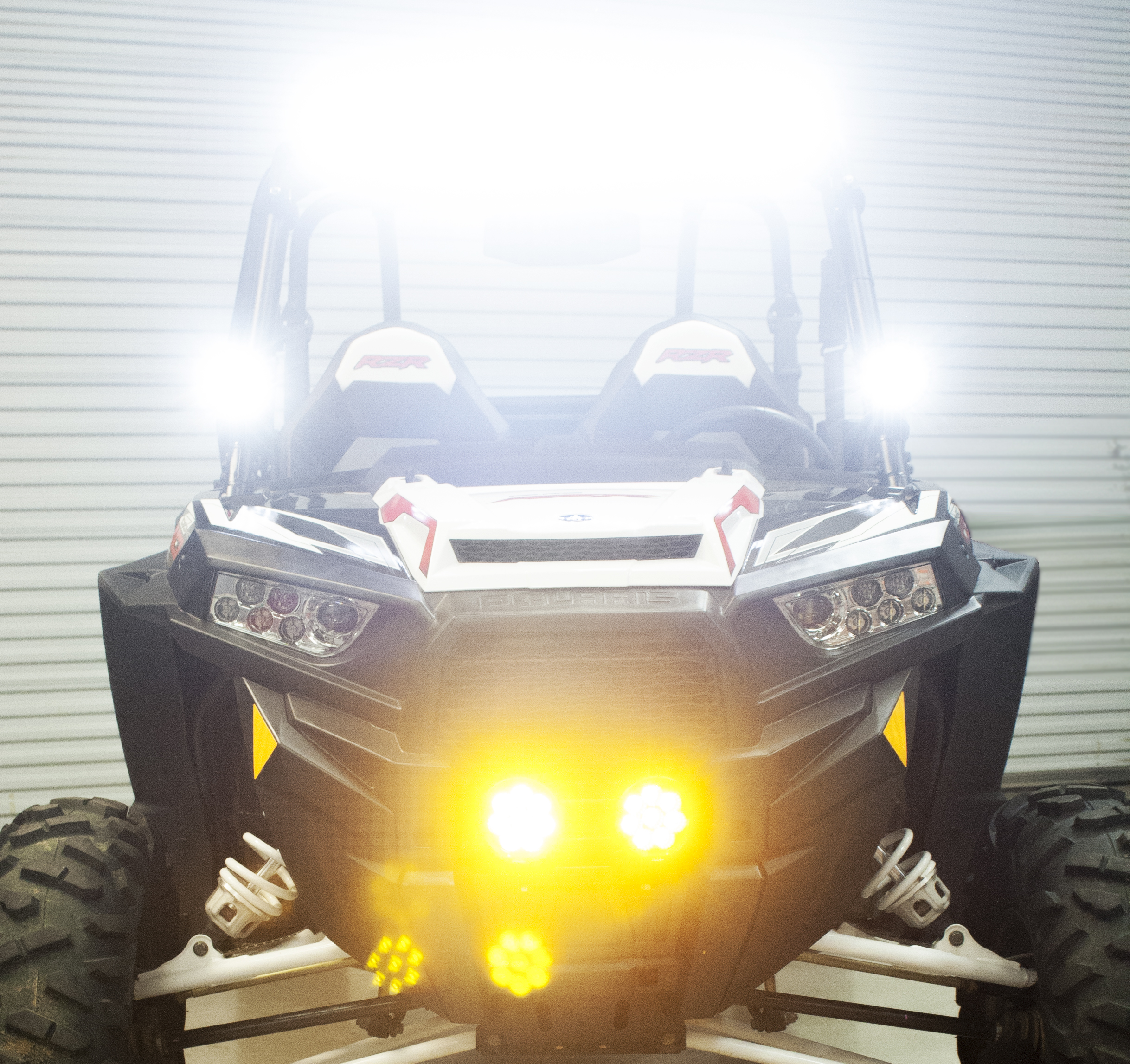 For the Polaris RZR
Roof Bracket w/ 1.75" Tube Clamps
A-Pillar 1.75" Tube Clamps
Grill Bracket
Roof Bracket w/ 1.875" Tube Clamps
A-Pillar 1.875" Tube Clamps
Shock Tower Bracket
Roof Bracket w/ 1.50" Tube Clamps

A-Pillar 1.50" Tube Clamps

Front Bumper Bracket

---
Dominator LED ChaseTail Light Bar by Lazer Star Lights
The Dominator LED ChaseTail Light Bar offers an all-in-one rear facing solution for both street and off-road use
Chase taillight features 2-amber / 2-red / 2-white LED segments
Red LED provides run/brake illumination adding safety to any vehicle
Amber LED provides an optional dust light or turn signal function
White LED for a back up or work light
Samples are available for media evaluation
Take Advantage of the Buy More, Get More Rebate - Claim up to $100 Back for Consumers - Now through October 2017

Paso Robles, Calif. – July 2017
Announcing the new Dominator LED ChaseTail. A functional and rugged solution for rear facing illumination, providing added safety and features for your off-road or on-road vehicle.
The 20" lightbar includes 3 ultra bright 3-watt LED's per color segment. The outer ends of the ChaseTail feature amber LED's which can be wired into the vehicle 3 different ways; as turn signals, as one strobe** / one solid dust light, or wired together as dual solid amber dust lights. The next LED segments in are red and provide a dual wire for run light / brake light function. Lastly the center 6 LED's are a brilliant white and can be wired with the vehicle back up lights or to a switch for a general rear lighting solution.
*Please check with your state's current laws and regulations for on and off road vehicles.
** Separate strobe controller required.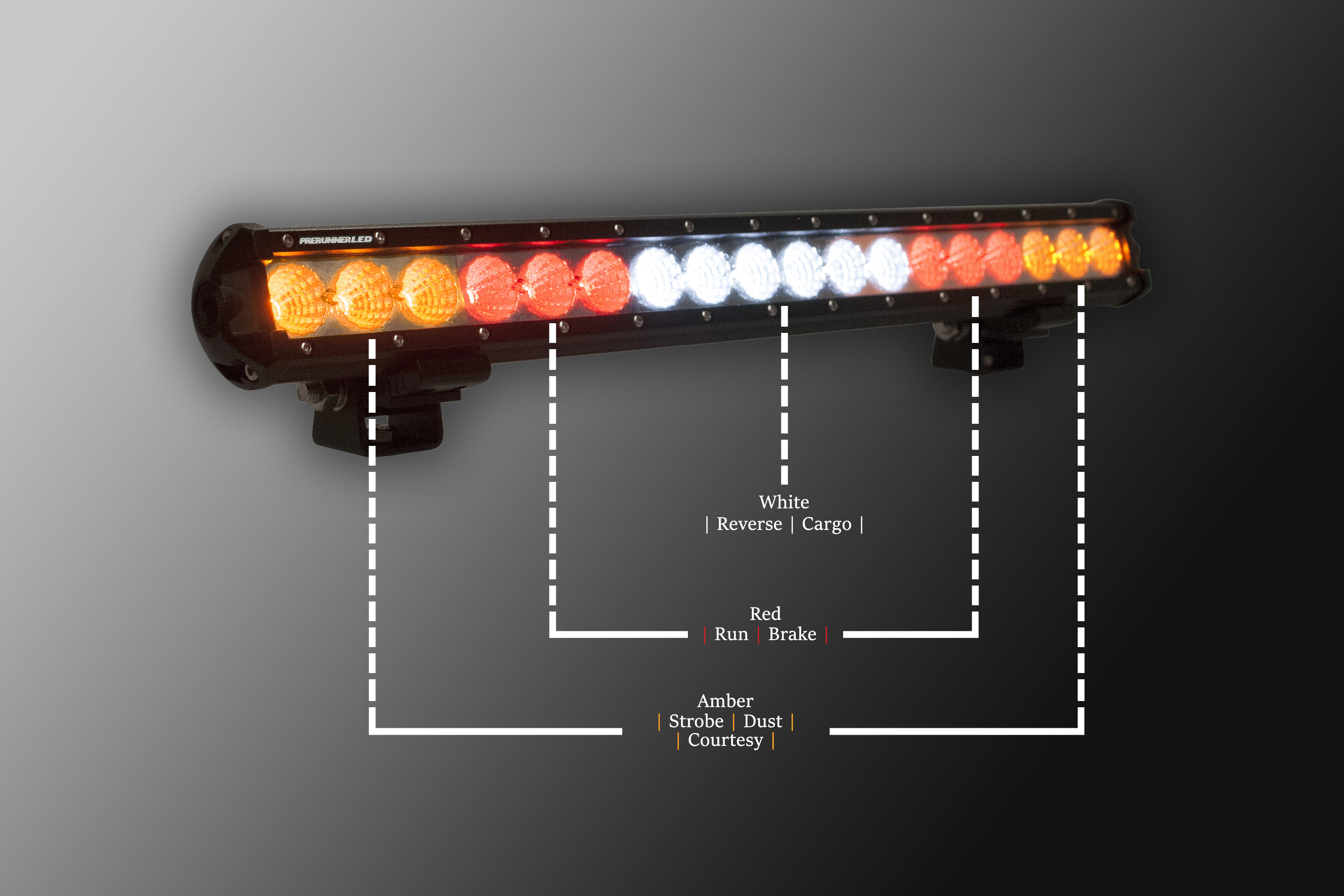 Dominator LED ChaseTail Light Bar by Lazer Star Lights
Rugged extruded aluminum housing
Universal Mounting with slide track bottom or side mount capabilities
IP67 water resistant seal
Universal open ended wire harness with schematic
Flood beam pattern
Covers included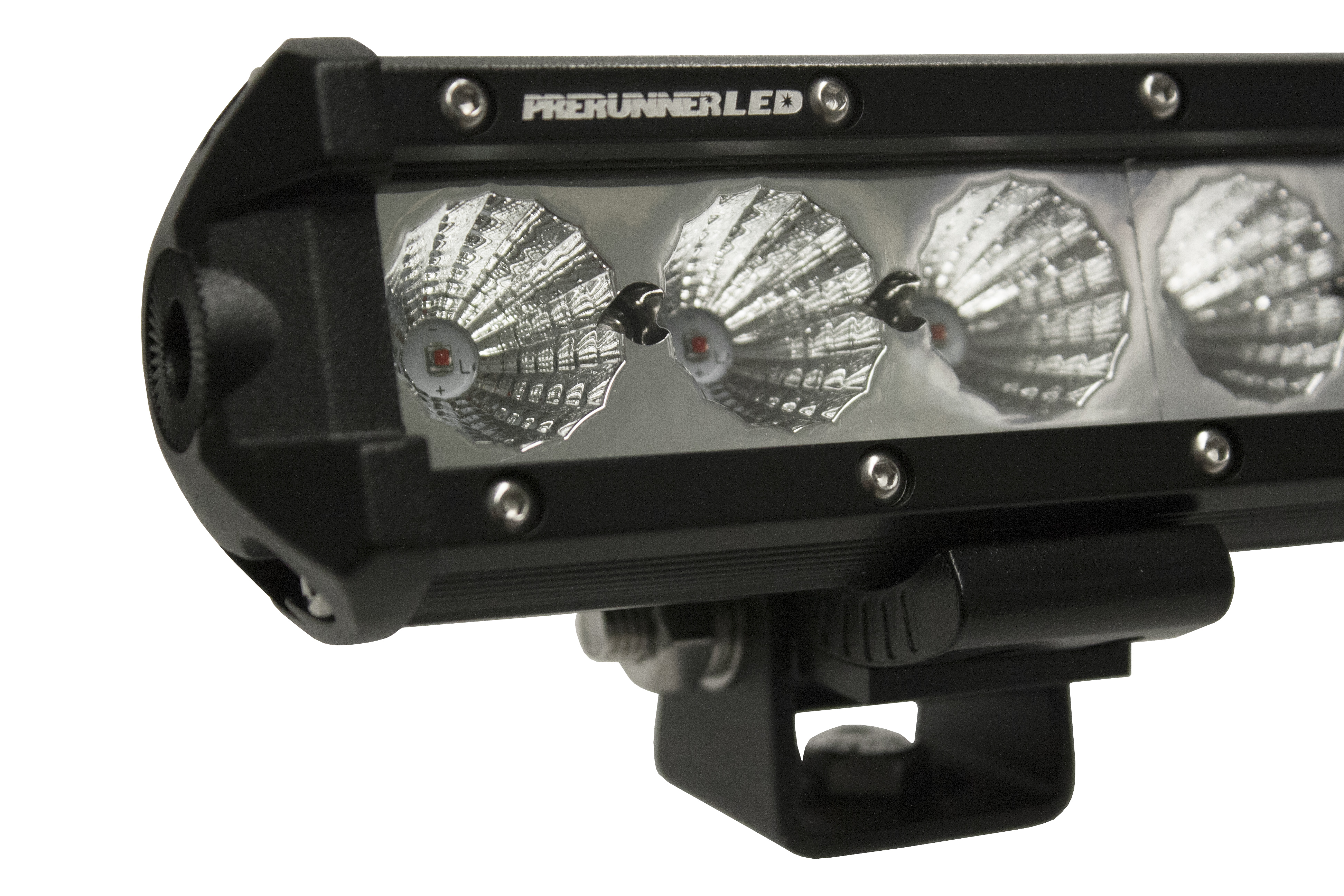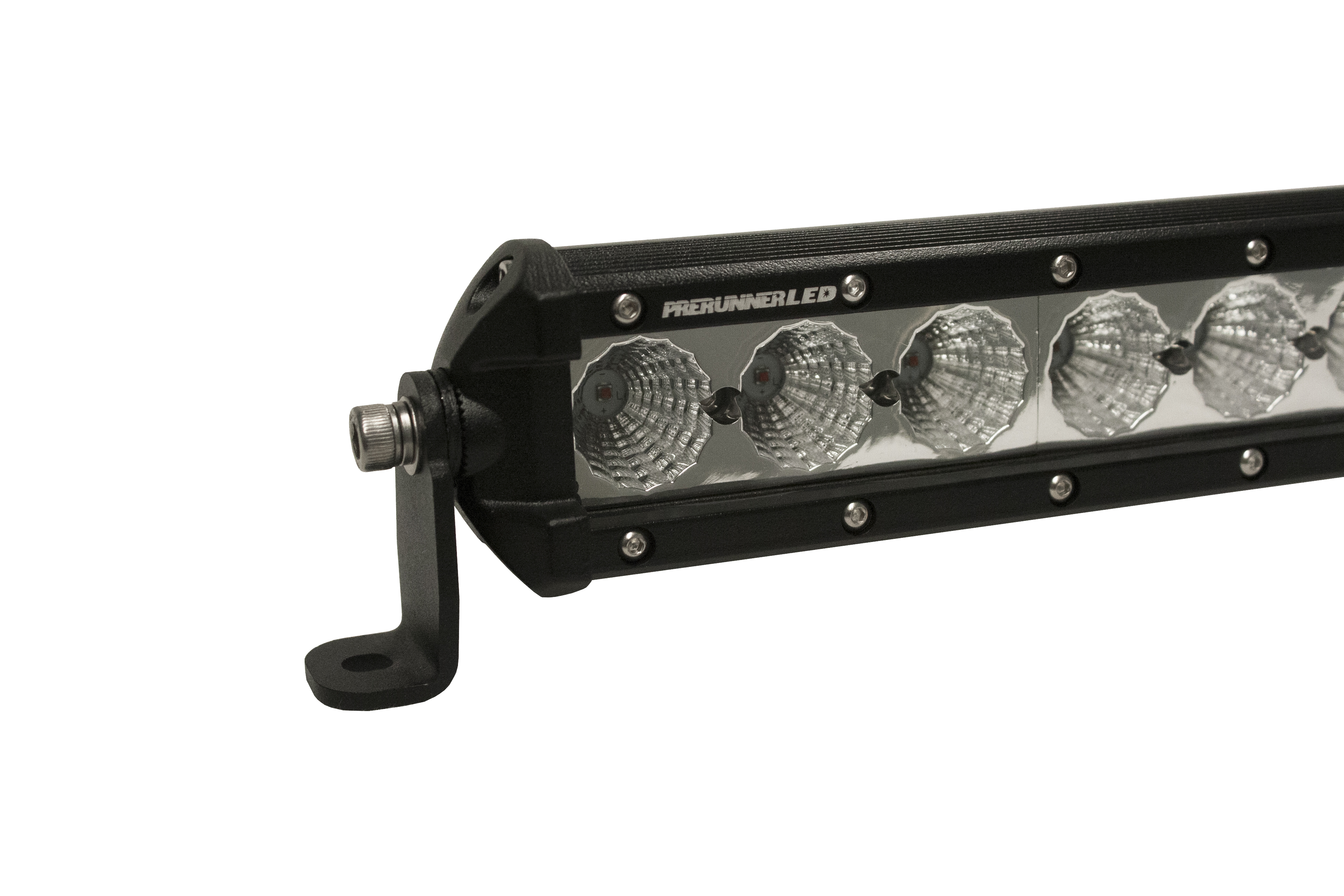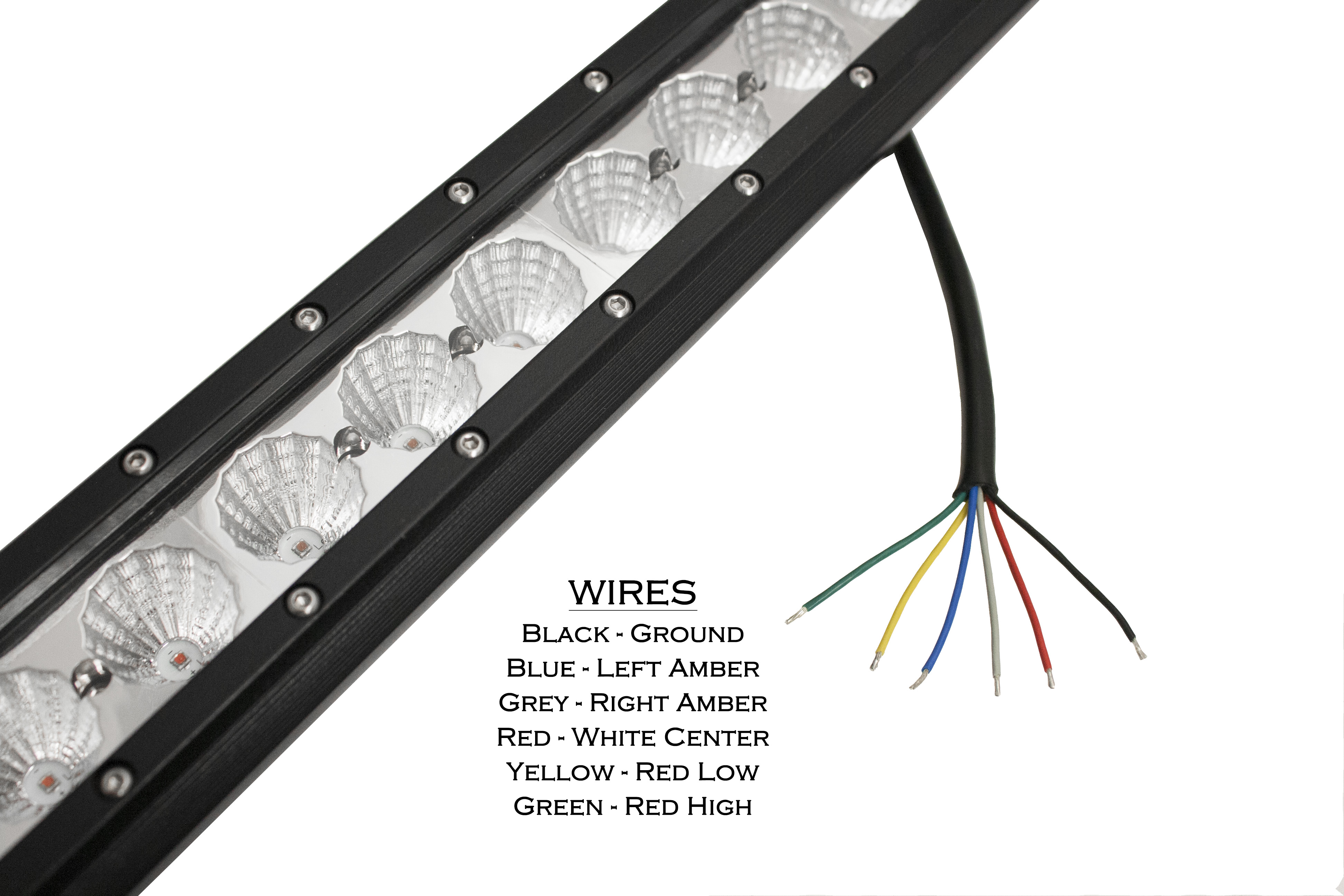 Lazer Star Lights brackets and lighting solutions are available direct from LazerStarLights.com and through your local Lazer Star Lights dealer. Find Lazer Star on Facebook, subscribe to their YouTube channel, and follow @LazerStarLights on Twitter and Instagram for more updates and special offers.
---
Lazer Star Now Offers a Wide Selection of Lighting & Accessory Solutions for Jeep Models
OEM Compatible A-Pillar Brackets

Intended for '07-'14 Jeep JK Wranglers
Brackets for mounting a variety of LED or HID lighting options on roof, lower windshield, or both

LED Headlight Capsule Upgrade

Utilize stock headlight reflector for a more affordable upgrade
Plug 'n' Play installation

iStar LED Pod Lights

For fender well rock lighting or interior / exterior accessory lighting
6 solid color options or a smartphone controlled RGB available

Wire Controller Kits

OEM compatible or universal solutions available for up to 6 accessories.
---
Paso Robles, Calif. – May 2017 – Lazer Star Lights has recently expanded their light and accessory options for 2007-2014 Jeep JK Wrangler models.
Don't let the darkness slow you down, let Lazer Star Lights help you conquer the night with a full line up of ultra-bright, easy to use solutions.
Lazer Star A-Pillar High-Light Bracket
Choose from 5 options of LX LED or PreRunner LED lightbars in the 50"+ range. Our heavy duty steel roof bracket is offered with a black powder coated finish or as an unfinished raw steel, and is laser cut with the Lazer Star eagle. Our brackets align directly with the pre-existing bolt pattern to prevent any unnecessary drilling. These brackets are available individually or in a kit paired with light bar. Mounting hardware included.
High-Light Bracket (Black Powder Coat) MSRP $299.99
High-Light Bracket (Unfinished) MSRP $249.99
Lazer Star A-Pillar Windshield Bracket
The Lazer Star A-Pillar Windshield Bracket is compatible with several Lazer Star lighting solutions, including smaller LED light bars, LED cubes, round LED's, or HID lights. The steel bracket is available in a black powder coat finish and utilizes factory hardware, making installation quick and easy. Brackets and lights are available individually or as a kit in several configurations.
Windshield Bracket (Black Powder Coat) MSRP $89.99
Lazer Star LED Headlight Capsule Upgrade
Increase your light brightness by up to 40%, its as easy as changing your bulb! LED headlight capsules are the simple affordable solution for upgrading your Jeep JK headlights.
H13 Bulb Base / Pair MSRP $149.99
Lazer Star iStar LED Pod Lights
iStar Pod Lights offer superior illumination in a compact housing. Perfect for any rock lights, interior / dome lights, accent lights, or rock lights. Anytime powerful compact LED lighting is needed iStar LED's are the perfect solution.
5 Single Colors Available: Red, White, Blue, Green or Amber. (Single) MSRP $39.99
RGB offers unlimited color variations, strobe or beat to music and more via the Smartphone App. (6-Pack) MSRP $279.99
JK and Universal Wire Controller Kits
A simple solution to your wiring nightmare! Lazer Star wire controllers organize up to 6 accessories, running all your leads to a relay specific connector, which then routes a single wire to the cab mounted switch panel.
JK Controller mounts in cab featuring 5 switches MSRP $449.99
Universal Controller push pad features 6 switches MSRP $349.99

Push pad switch solution come with switch labeling sticker kit.
Visit LazerStarLights.com for more information. Follow Lazer Star on Facebook, Twitter and Instagram for the latest product updates.
---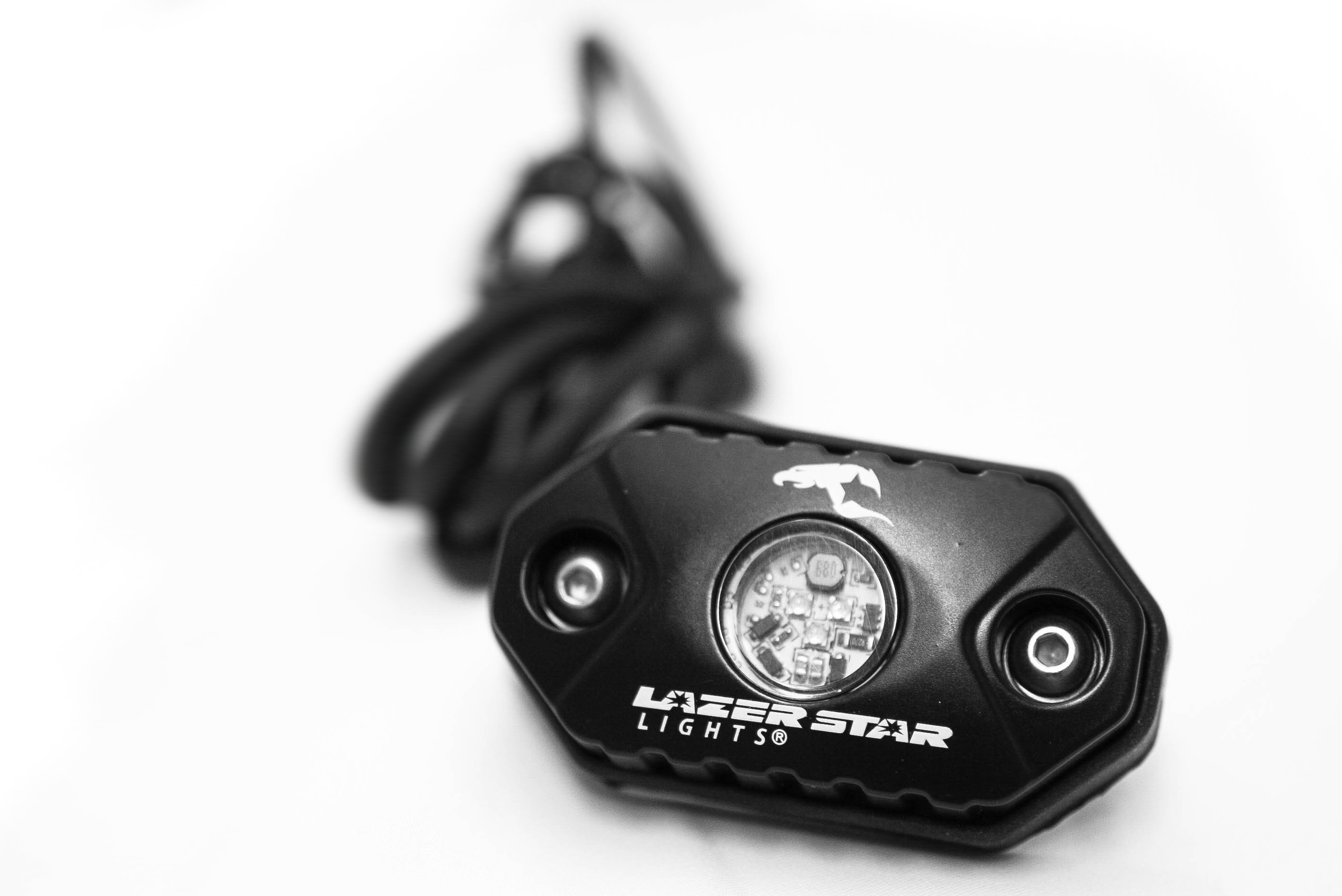 Lazer Star Lights updates & expands their popular line of iStar LED rock lights.
With compact housing, ultra-bright light output and universal application all paired with a rugged design, iStar LED lights have become extremely popular since their debut last fall. Shortly after the line of accessory lights became available to our customers, Kyle Newman, head of R & D at Lazer Star, saw a huge opportunity to expand the application possibilities with a few simple mounting design additions.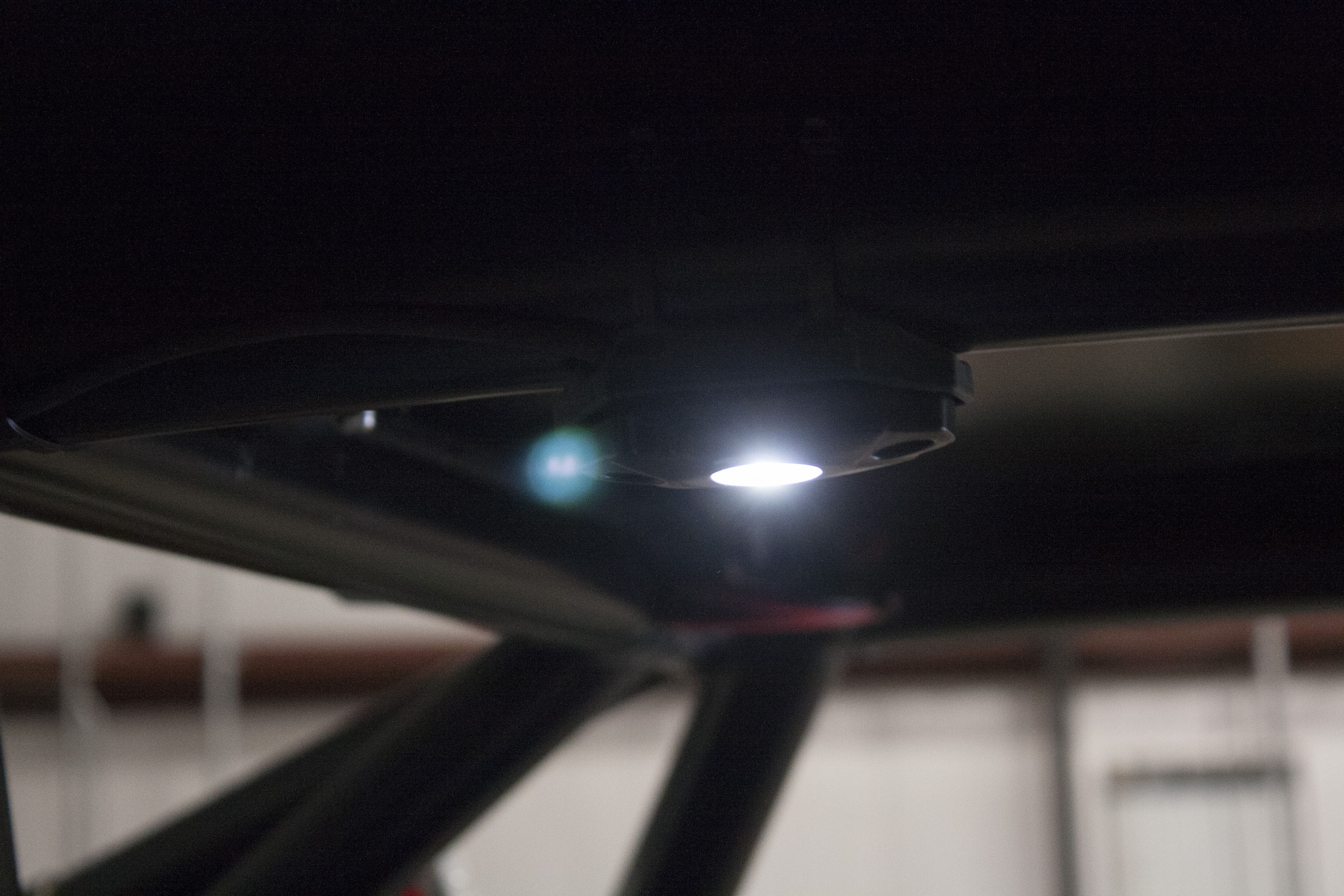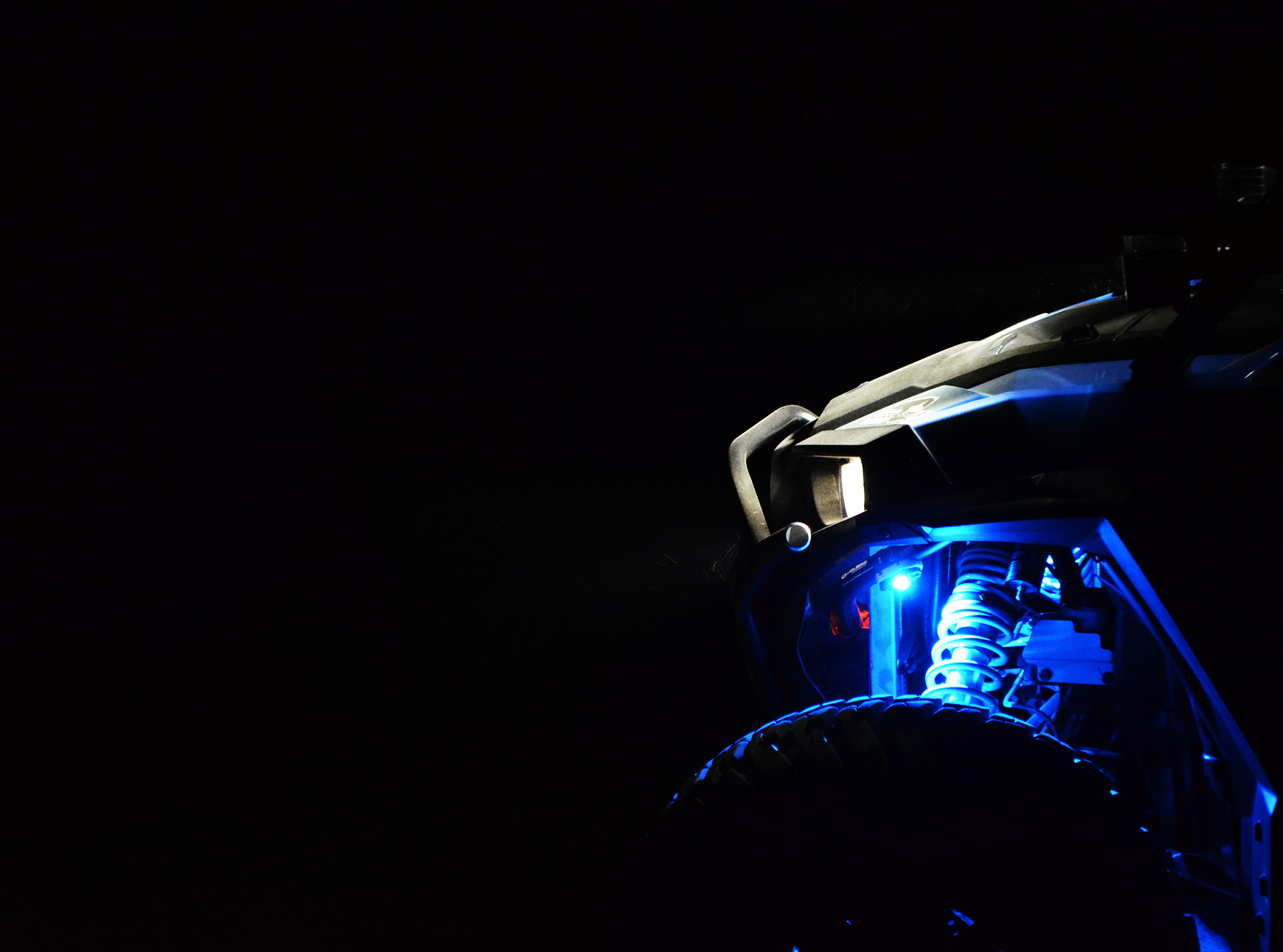 Our two new backer solutions open up the options for mounting the brilliant iStar LED lights. Choose from the 30° Wedge Backer or the zip tie capable Radius Tube Mount Backer, which easily mates to 1" to 3" tubing. The new mounts are a perfect solution for dome lighting, under body lighting, in cab lighting and more for your Jeep, UTV, or off-road vehicle. The wedge base projects the light outwards to give your vehicle a perimeter glow that helps you see rocks or off trail obstacles. iStar LED provides outstanding illumination for numerous automotive, power sports, off road and marine applications.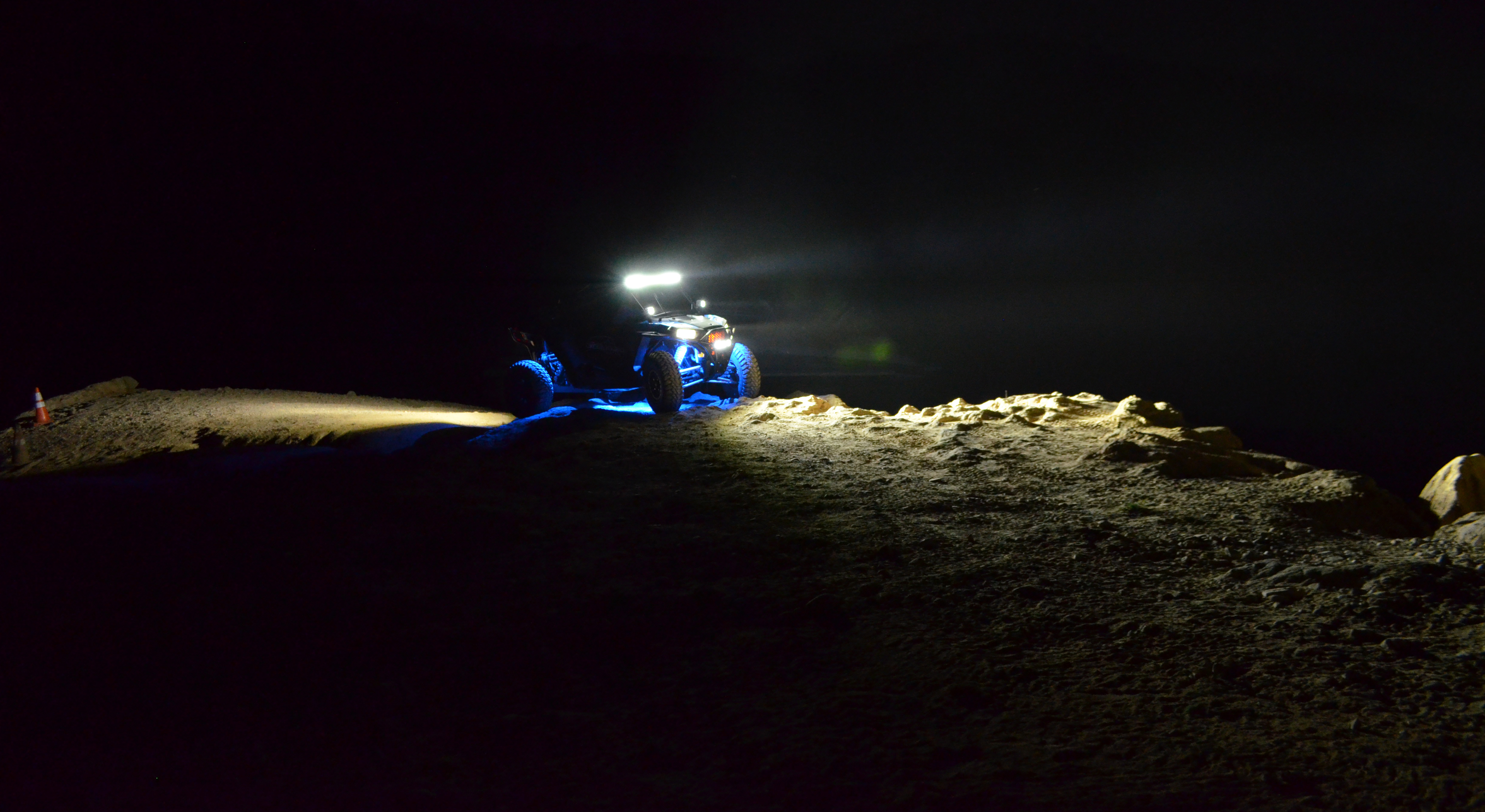 iStar is available in 6 different color options: red, white, blue, green, amber, or RGB. The RGB option is controlled wirelessly with a Smartphone app, offering customizable and preset colors as well as custom pattern configurations with modes like pulsating, blinking, and cross-fading that react to sound or sync to your favorite playlist. All these features and more at the tip of your fingers. (See smartphone app sample here)
Lazer Star iStar LED are an industry leader when it comes to LED output, quality, craftsmanship and value. In addition, iStar is one of the most affordable solutions on the market today, starting at $39.99!
Find out more by shopping online at www.lazerstarlights.com or with your local Retailer today.
---
Murray Racing Finishes Strong with 2nd Place at 2017 Mint 400
The 2017 Mint 400 is in the books.
Best in the Desert Pro Turbo Team #917 Murray Racing just picked up the 2nd place trophy at awards ceremony Sunday.
It was an early start as Jason Murray takes the car off the line in 9th position at 6am Saturday morning. He immediately started picking up spots through the first lap. After the first lap out of main pit Murrays were up to 2nd physically going into the 2nd of 3 laps. "We had a clean run up until we lost brakes 1/2 way through the 2nd lap, says Derek. We held position up until we had a rookie mistake and our pits did not fill enough fuel and at mile 83 the car died. We were running out of fuel. All I could think about was all the time, effort and results of the past months were out the window. We had to think fast so I flipped fuel pumps and managed to swerve the car back and forth for several miles running 5 to 10 mph. We could see the pits in the distance but it was still miles away and the car kept dying. We limped along until we finally made it to the bottom of the lakebed at about mile 92, it the slowest 10 miles in our racing career."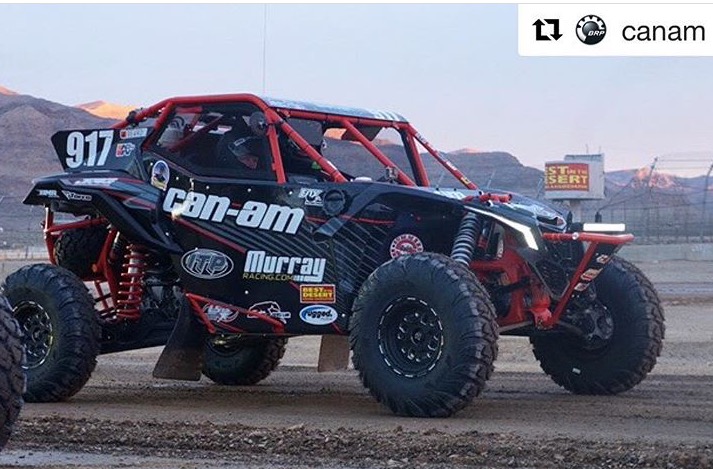 As the car came to a dead stop every last drop of fuel gone, Derek was hitting the steering wheel in pure frustration; he knew the day was over. Then, out of nowhere, a BITD official who was working this section of the course walks over and asks what's wrong? They told him they ran out of fuel; they needed a tow off the course. The BITD official said, like some kind of Mint 400 Angel "it's your lucky day, I have 3 gallons!" It takes several more minutes to get the meager 3 gallons in the car. The X3 fired up and they were off but still needed to go nearly 25 more miles. After only 13 miles the car started to sputter. Good thing they were headed down hill and able to coast down into an alternate pit where 5 gallons of fuel were bummed. With over 20 min of delays we knew our hopes of 1st were out the window but now 2nd could also be lost. Amazingly as the team pulled back into the race they still managed to be in 2nd!
Pulling into Main Pit after the long stressful 2nd lap, the car was looked over; brakes slightly fixed and with a quick driver change Jason took off for the last lap. He pushed the X3 hard for the last 116 miles with no issues and brought it in for a respectable 2nd place and 2nd overall out of 110 UTV's. "This is the 47th consecutive BITD finish and we have finished the Mint in 1st, 2nd, 3rd, 4th and 5th in the last 6 years of racing the Mint 400" Said Murray.
They want to thank the crew and sponsors for all the support.
Can-Am Off-Road ITP Tires & Wheels, Lazer Star Lights, Torco, K & N, FOX, Lone Star Racing, Beard Seats
Find them back out at their next race, the Score International San Felipe 250.
---
2017 King of the Hammers.
Top Racers from around the globe come to Johnson Valley, California every February to compete in the hardest one day off road endurance race in the world! This year there were 122 racers in the 4400 class and only 50 finished the race.
February 2-10, 2017....Derek West and team # 20 left for Johnson Valley, California on Thursday Feb. 2nd after months of preparation for the opening race of the 2017 season, which is also the biggest race of the every season. The week was full of media, photo shoots & prepping for qualifying. Derek qualified on Tuesday Feb. 7th during "Power Hour" taking a great starting position of 19th overall out of 122 racers.

Friday Feb. 10 "Race Day"...Derek and his team had everything in tip-top shape ready to start the race after qualifying earlier in the week. Early Friday morning the #20 car took the green flag and was off to a great start catching other cars until a large boulder appeared out of the dust and damaged some crucial components. A quick stop at pit 1 and they were off again chasing dust trails. An alternator belt came off and the team did not notice it until the battery had been drained to a critically low point. Arthur Richtmyre (co-driver) hopped out and began replacing the belt. Once things were back in order the battery was too drained to start the car, during this process Mel Wade, one of Derek's competitors stopped and give him their jump pack. Art and Derek tried this but the car still would not start. Quickly, Derek cut the battery cables that feed his winch with a plan to use them as jumper cables. Derek stood on the hood of his car and waited for the next competitor to come by and signal them for help. That next person was Jeremy Hammer, a fellow Nitto Tire teamate. He stopped and was successful in getting the car going again!

Things were now going as good as they could for being at the back of the pack. Again, Derek began passing cars again in the rock trails until a rock took out the rear slip yoke on the drive-line. Derek knew he had no choice but to quickly hike to pit 2a, which was 4 miles away through the mountains. He quickly got to the pit and then back to the car with the needed part. From there Derek drove at a conservative pace in order to finish the race and gain series points. They had no more issues and completed the race in 49th place at 9:30 pm just 30 minutes before the time cap. Derek & Art endured a long, hard day in the race car with an ending time of 13 hours & 18 minutes. The team showed their racing perseverance and hard work pays off! Derek and team 20 are looking forward to an amazing season!

Derek West Racing upcoming events:
Feb. 25 - Outlaw Racing Series @ Booneville, Ark.
March 26 - Big Meat Run @ Disney, Ok.
May 6th - Outlaw Racing Series @ Jadwin, Mo.
May 20th - Ultra 4 East Coast Series @ Davis, Ok.
May 26-29 - Maddness In May @ Cass, Ark.

Images provided by Derek West and Bill Bailey

---
2017 King of the Hammers
Lazer Star Lights Hammertown Recap

It had been a couple years since Lazer Star was set up all week out on the lakebed. The past 2 years have conflicted with Parker 425 which made the double header a tricky juggle of logistics, and we just hadn't been able to pull it off. Needless to say, we were stoked to have been back out in Hammertown to show off our lights to all the great folks that come out for the festivities.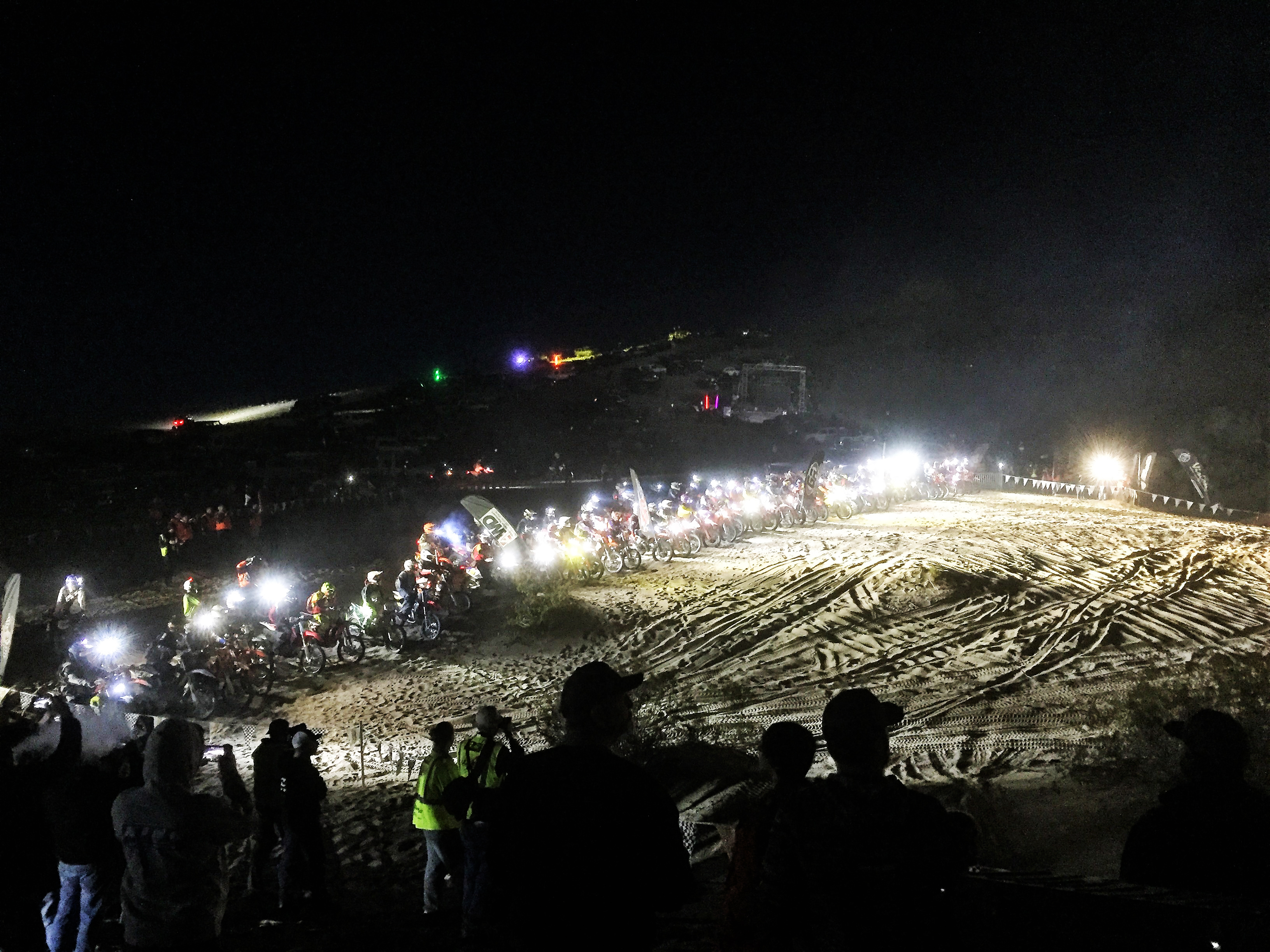 This year we rolled in on Saturday for the epic King of the Motos night segment; a great kickoff to the week ahead! We were blown away by the start to this night event. These guys are definitely out to prove their worth and give their all to be crowned King of the Motos. Congratulations to Husqvarna's Colton Haaker who started off his 2017 King of the Motos weekend with a fourth place in the Night Race. Even though he didn't place first in the Night Race, he used that momentum to win Race 2 and 3, which ultimately won him the overall King of Motos title for the second time in three years.
Monday night brought plenty of excitement out at the Back Door Shootout. Thousands of spectators lined the cliffs along Back Door to catch the timed trials and driving entertainment.
Continuing into the week, Hammertown was packed with participants and athletes alike. Our Lazer Star Lights booth was hopping with our LX LED Light Bar Giveaway and product specials being snatched up quicker than we could open every day. Luckily with the 12pm vendor start time each day, it gave us an opportunity to head out to the hot spots to watch the men and women in their crazy machines do what they do best.
Tuesday evening we scheduled our official Lazer Star photo shoot out at the sand wash where we got to catch 3 of our sponsored race team's (Jason & Derek Murray #917, Derek West #4420, and Matt Lovell #7244) show off their rigs and their Lazer Star Lights. Special thanks to Bill Bailey at Sightline Images for capturing some great shots!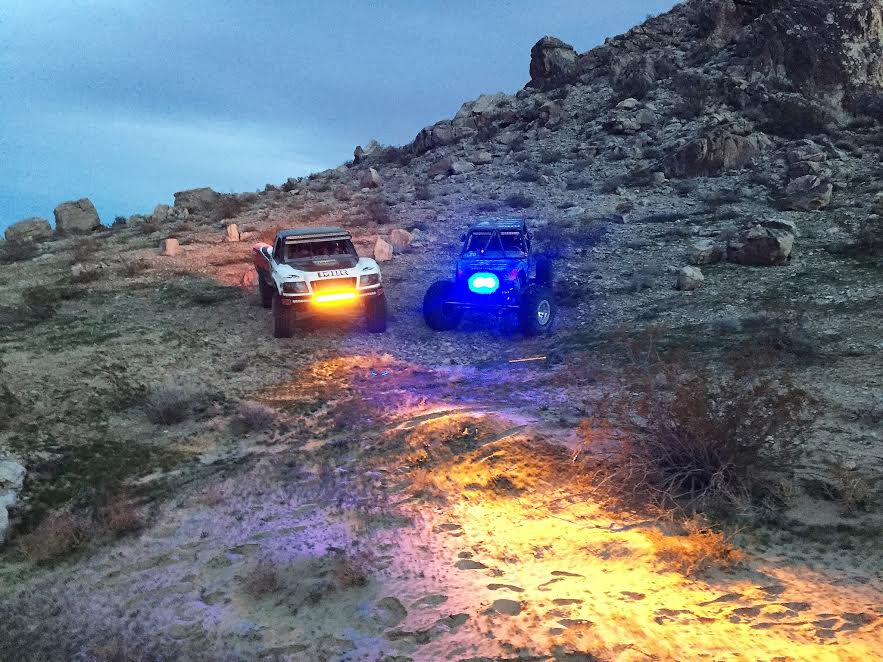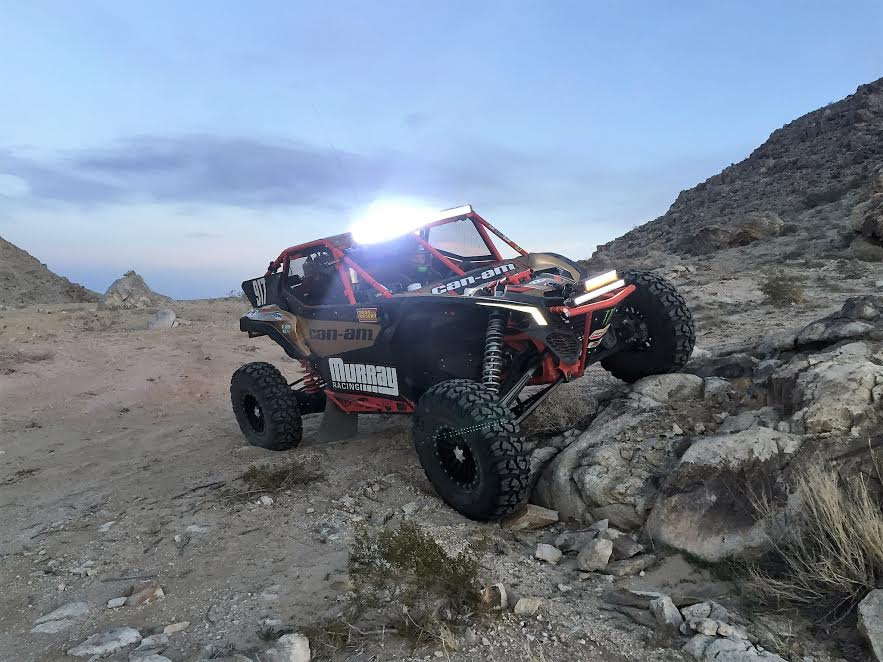 Wednesday was extra exciting for the Lazer Star crew as we got to watch Weller Racing out on the race course. Luckily for us, we got to catch them coming down on the final technical pass at Back Door and watch the checkered flag come down for 8th place. Congratulations to Weller Racing's Jason Weller and his Co-Dog Mike King for bringing home the #1910 Yamaha YXZ100 to a top 10 finish!
The anticipated Every Man Challenge out on the lakebed came Thursday. This is a run-what-ya-brung type of class, so there were some wild and super stock vehicles out on the lakebed bringing thrills and entertainment to all the hot spots. We had one of our industry affiliates out at EMC banging away on his '74 Bronco all day, only to time out in the last 20 miles. Congratulations on Andrew and Brett for sticking it out until the end, and to Bertha Ford for holding together for over 100 race miles!
Friday was the final and most exciting race day of the week. The big boys came out with their guns blazing in the 4400 Unlimited class. These guys are the professionals of the crawling/open desert racing we have come to know and love at King of the Hammers, and they didn't disappoint. With Shannon and son Wayland battling out the final miles, Shannon proved victorious as he came in on 3 tires to win the 2017 King of the Hammers title.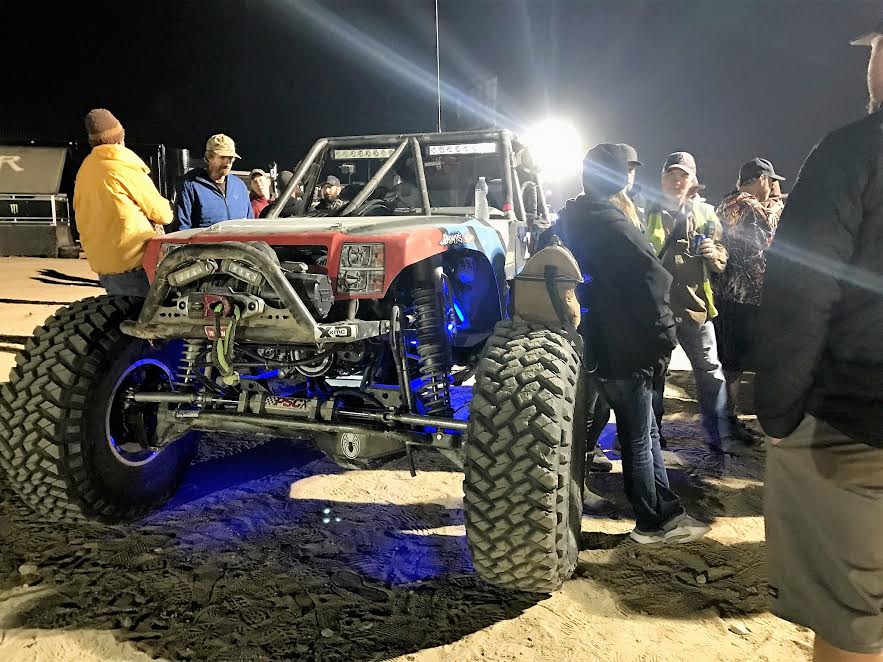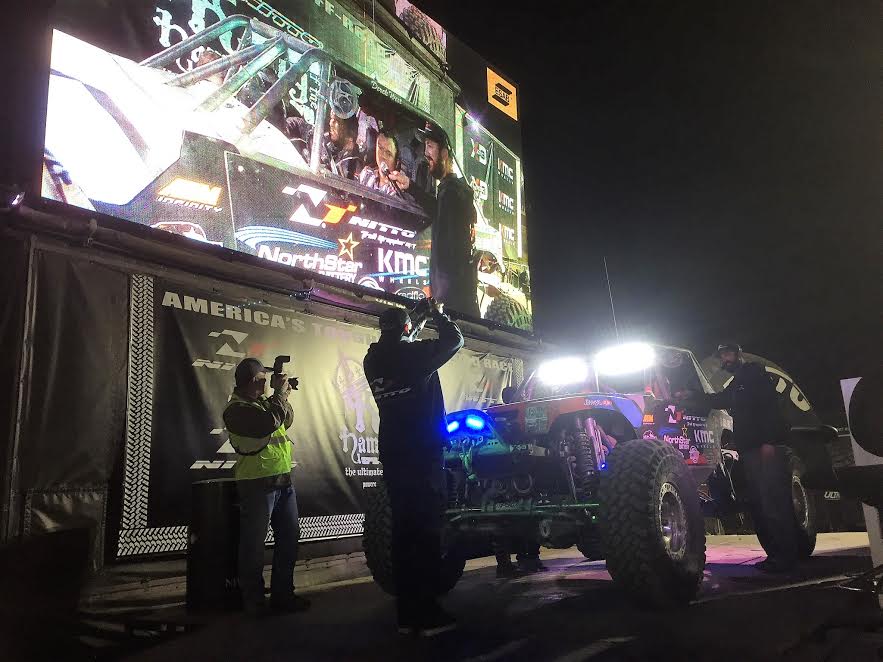 However we had our eye focused on Lazer Star racer Derek West most of the day. #4420 Disco Derek fought hard with intermittent issues throughout the race, one of which had to hike a total of 8 miles to collect parts for his busted rear drive shaft in the middle of the course. We are proud to say that he did in fact finish the race before time out, and got to claim his title as one of the few KOH 2017 finishers.
All in all, the 2017 King of the Hammers was an epic week of busy sales, great people and amazing weather. We can't wait to see the excitement 2018 will offer out on the lakebed.
Special thanks to everyone that came by our booth and signed up to win our LX LED Light Bar Random Giveaway. We have contacted our giveaway winner, Cody Goodman! If we don't get a response by 2/27/17, we will be on the hunt for a new winner so be sure to check your emails! Congratulations to all the winners and we look forward to seeing your Lazer Star LX LED in action next time, in Hammertown.
---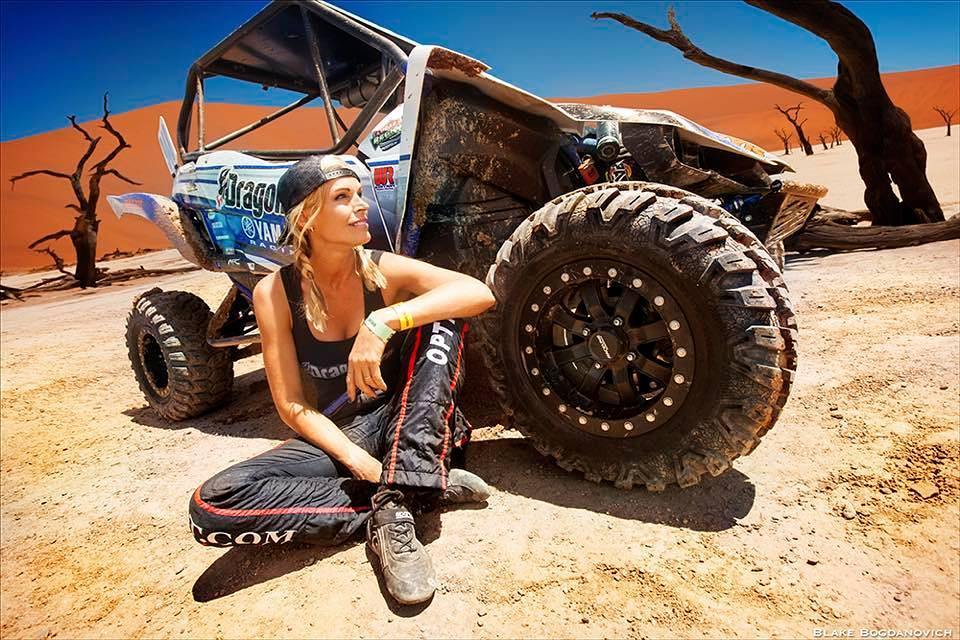 Corry Weller and her YXZ
Corry Weller, 2016 UTV TORC Champion and recent finisher at the grueling Best in the Desert, Vegas to Reno race, this kick ass driver has been getting it done, and doing it in style with her Yamaha YZX1000R.
Just 2 short weeks ago Weller and her crew were celebrating in the Nevada desert after completing with a 7th place finish at her inaugural Best in the Desert race debuting the YXZ1000R and all it has to offer the Off Road Race scene. Even with her busy short-course season, she knew the YXZ would kick ass in the desert, and was out to prove it. Keeping the unit close as possible to stock while only adding basic requirements from BITD and some necessary must-haves when racing in the desert, she set out as solo driver on a 2-day mission to prove her skills and YXZ against all odds. Day 1 was a success, she started in 27th so they knew they had a huge battle ahead, but even without power steering the YXZ raced from pit to pit with short fuel stops. The dreaded silt beds were the biggest contender throughout race day 1. Day 2 started with excitement as they learned she had moved up to 12th starting position in class, so she set her mind to battle harder and race faster. With the mixed class start, she got bumped and battered by much larger trophy trucks and other classes, good thing for the sturdy rear bumper on the tough YXZ! All else went great and day 2 proved to be a fun course of exciting mixed terrain putting skills and machinery to good use. The 1-truck chase crew got girl and machine through 644 miles of the Nevada desert and crossed the finish showing 6th, but took 7th in class after adjusted times.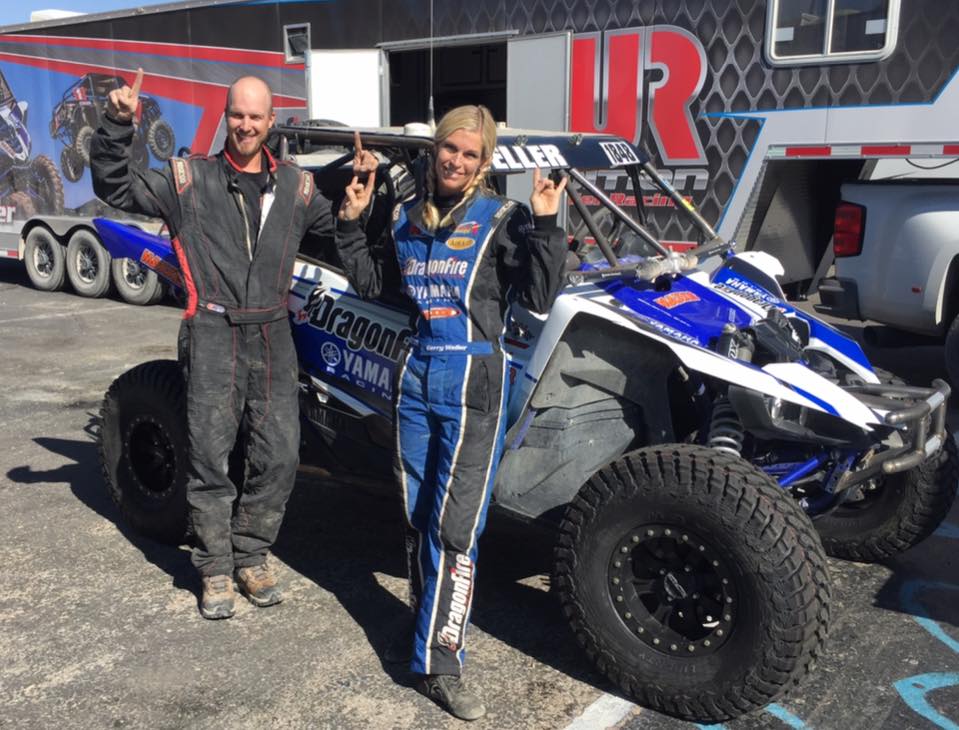 Corry states, "We started in the back of a large and ultra-competitive field, with a YXZ that had a bone stock motor and factory suspension and chassis, that had zero time on it as a new build, in a class full of UTVs that are rebuilt from the ground up. To finish this race is a huge achievement, but to finish where we did is awesome! 7th out of 34 in the Pro Production class, 12th overall out of 70 UTVs total, and 65th overall out of all the truck/car/UTV class entries!"
Labor Day weekend Corry, Team Weller and her short-course YXZ1000R headed back east for the final round of the TORC series. Short course racing is nothing new to Weller and this debut of the TORC Pro Stock UTV Class was a perfect fit for her training, skills and machinery. "As a West Coast racer, it is a great feeling to drive nearly across the country to race the Midwest series and bring home a championship for Yamaha and the YXZ1000R," Weller said. "We're not just winning races, but we're already breaking records in the YXZ's first year of racing'". She definitely proved herself and her YXZ as serious contenders in the future for this series, as she proudly is the first and only racer at TORC to podium in the Pro Stock UTV class at every event, and the first female to ever win a TORC Championship of any class.
"This is the first of what we expect to be many national championships for both Corry and the YXZ1000R," said Steve Nessl, Yamaha ATV and SxS group marketing manager. "Leading the Stock UTV class takes the combination of a skilled and experienced driver like Corry, and a truly race-ready and reliable factory vehicle like the YXZ1000R."
Lazer Star Lights is proud to be part of the Weller Racing team and can't wait to see what she does throughout the remainder of 2016!!
---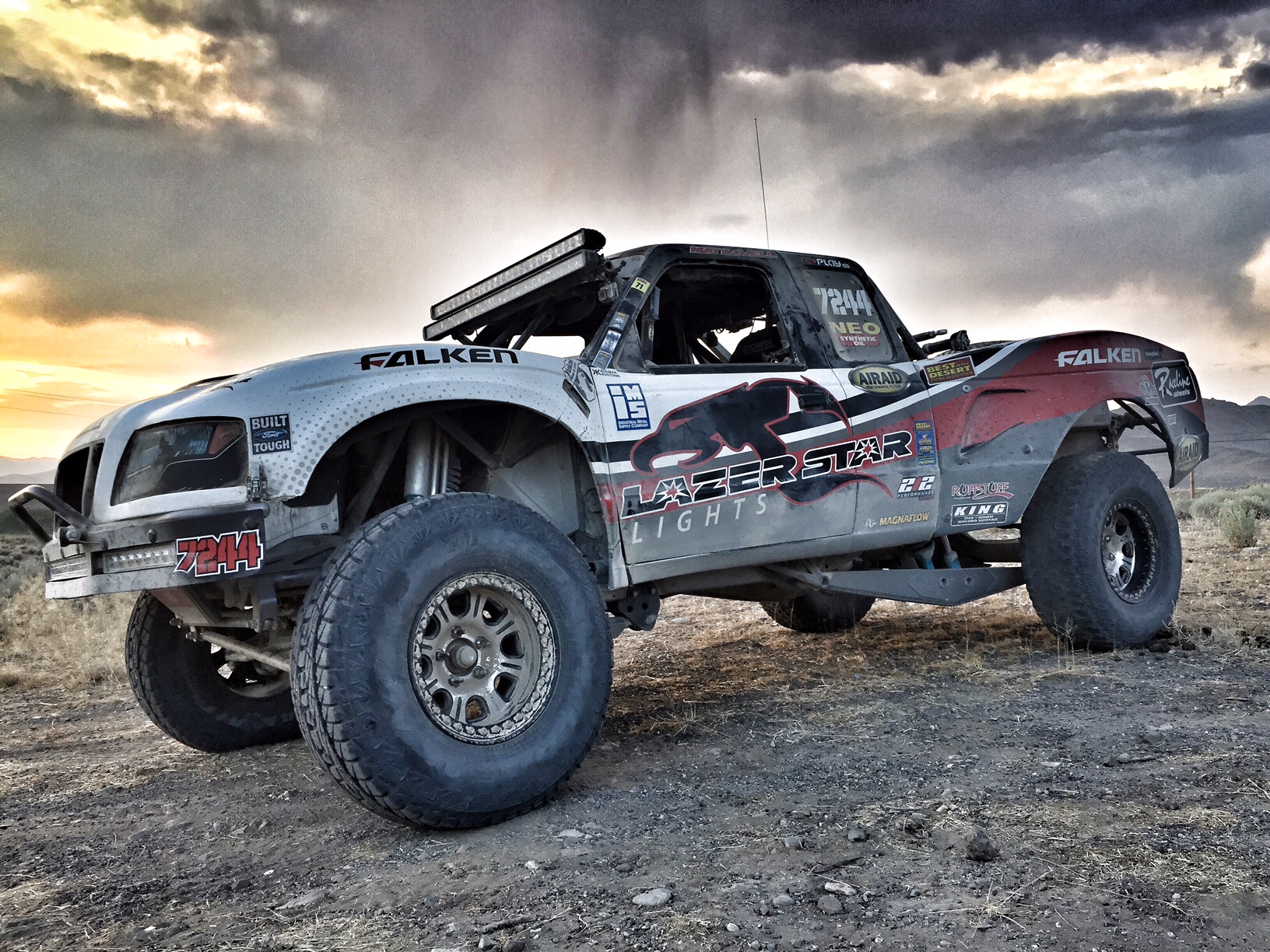 Team Lazer Star Lights / MLR charged hard for the finish line at Vegas to Reno and snags a 4th place win.
In celebration of the 20th Anniversary of Vegas to Reno, Best in the Desert decided to put drivers to the ultimate test. Dubbing it "The Longest Race", this 2-day event brought many racers to their proverbial knees with miles of silt bed, pit to pit trailering, and a sleepover in Tonapah; this was a tough one to finish indeed. Racers and their crew had to be focused and prepared to battle, and MLR was ready. With a crew of over 20 volunteers, logistics were tricky and everyone needed to know their place when things got crazy in the pits. After the Mint 400, they learned anything could and would go wrong.
Despite the odds, #7244 had smooth sailing again this year. V2R of 2015 saw nothing but fuel stops the entire race, and this year was almost as pain free, with only 2 tire changes on top of the fuel stops. Naturally, the story from the course was not nearly as simple. Within the first 50 miles, a gnarly silt bed took out a slew of teams from Trophy Trucks to UTV's. The relentless silt made it nearly impossible to see other racers or wrecks ahead of you, let alone the 10 foot ravine (2 in a row in case you thought you could jump it) which brutally took out several teams. All this of course was before Pit 1, when the crew came to learn at the last minute that they would need to haul ass with the trailer, since a helicopter (not race related) had gone down and the course had to be closed. The crew raced their truck to Pit 1 for the pick up and tow to re-start at Pit 2. It looked like it was going to be a very long 2-days.
Without further incidence, the MLR crew raced to Tonapah for the overnight campout.
Day 2 brought an interesting start, as the cars lined up in the order in which they finished Day 1. This made it a smorgasbord of vehicle classes taking off one after the other; a little hairy for those UTV's starting right in front of a Trophy Truck! Another day full of DNF's in the silt bed, but more smooth sailing for the #7244 truck. Matt pulled into the finish line before dark with a possible 3rd or 4th place finish. After adjusted times, Team Lazer Star Lights / MLR #7244 took 4th place home.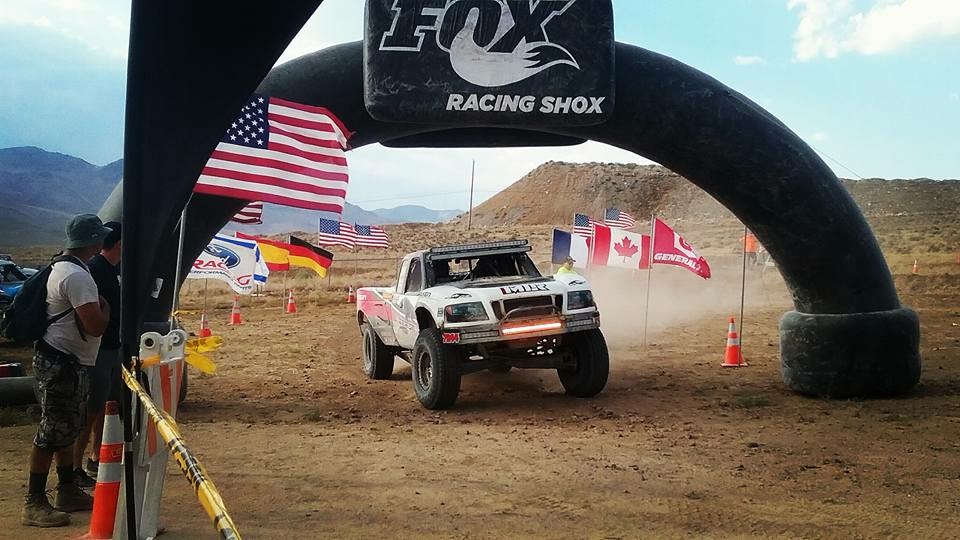 Matt would like to thank his co-drivers Rob Nelson and Brett Maister, along with his crew and newly wed wife Jessie for helping make this race a success. None of this would be possible with out the sponsors: Raceline Wheels, Falken Tire, Ruff Stuff, Airaid, King Shocks, PCI Radios, Neo Synthetics, and 212 Gloves.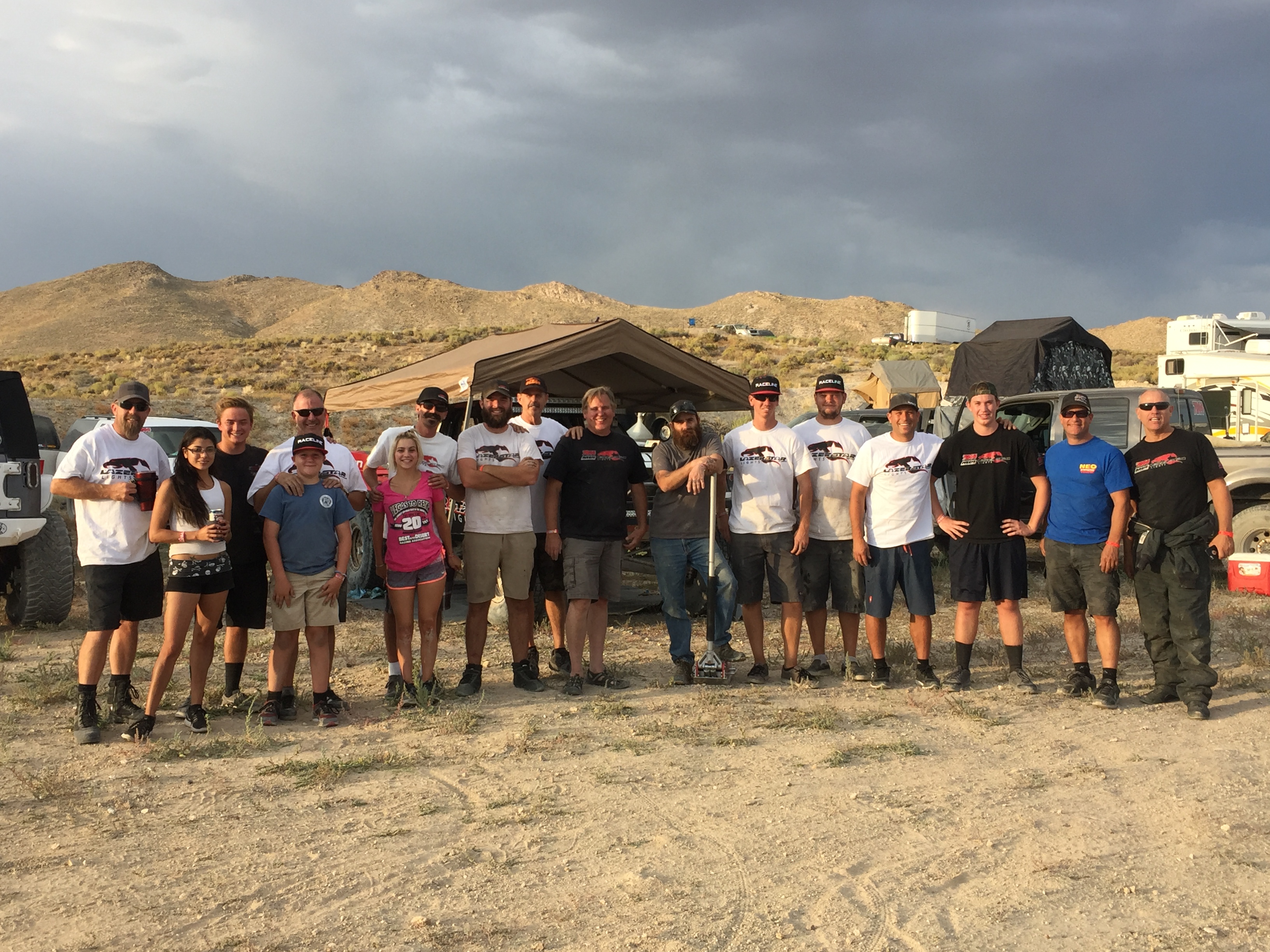 ---