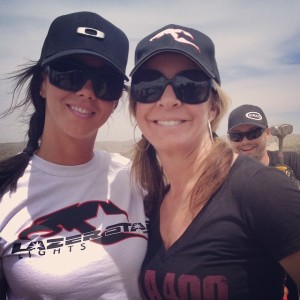 Lazer Star Pit Crew Girls Suzi (right) and Jessie at the Silver State 300.
In our last issue we introduced you to our Race Director and OEM Sales Manager Dennis Lusardi. This time around we bring you Lazer Stars own Suzi Scott-Cusimano. If youve ever visited the Lazer Star booth at an event youve probably had the pleasure of meeting Suzi. With a fun-loving attitude and a heart of gold, Suzi not only handles the marketing side of the Lazer Star Lights business, but also represents us at races and events throughout the year.
Suzi got her start with Lazer Star soon after her parents, Pat and Betty Scott, opened its doors in 1993. Fresh out of school, Suzi spent some time in the shop doing some assembly work on the original Bullet Lights for automotive and motorcycles. The summer job was just that as Suzi decided to spend some time away from the family business.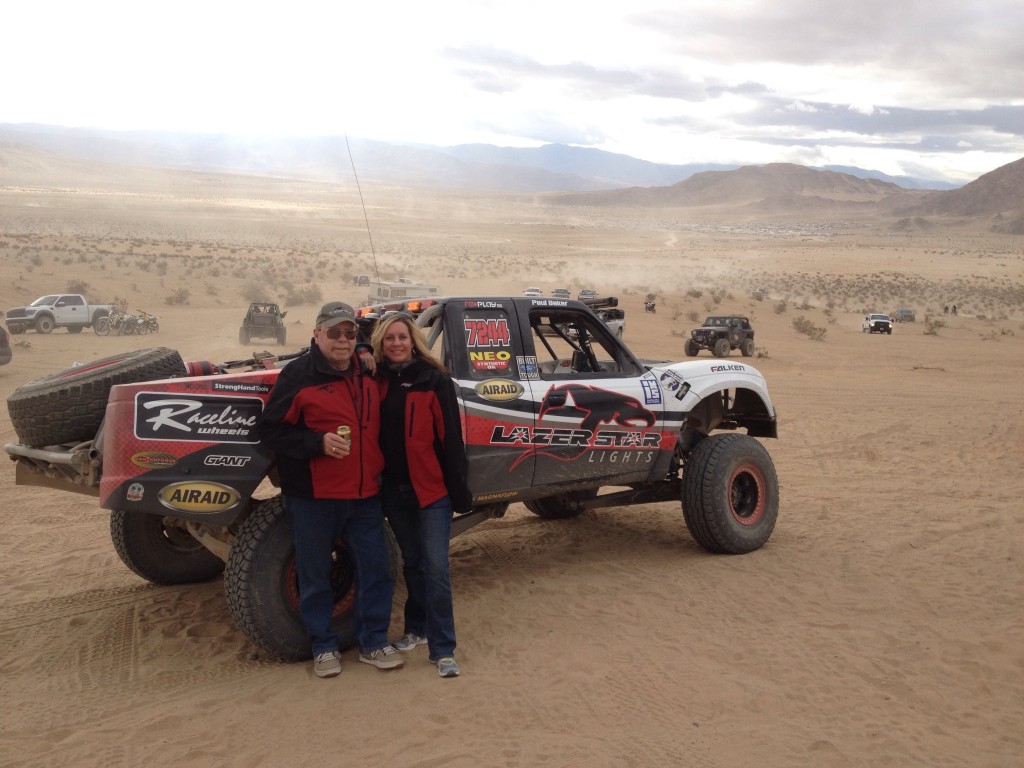 Suzi with her dad Pat and the Lazer Star Lights/Matt Lovell Racing truck at the 2014 King of the Hammers.
After spending a few years in Colorado and Hawaii (snowboarding and surfing, if you couldnt guess), Suzi returned to Lazer Star in spring of 1998 to head up sales and marketing for the V-Twin segment. She spent a lot of time on the road representing the brand at shows, events and dealerships nationwide. By 2003 her role had evolved to include inside sales/distribution and marketing, and as the company dove into LED technology she spearheaded the effort to put Lazer Star Lights in the off-road automotive marketplace.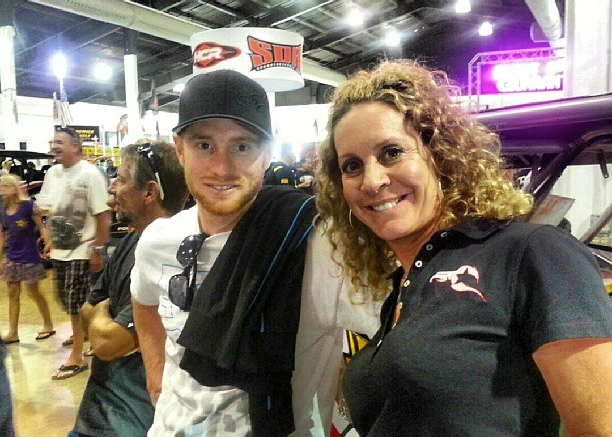 Suzi with Ryan Villopoto in the Lazer Star booth at the 2013 Sand Sports Super Show. Suzi stays closer to home these days but still attends many shows, events and races. Growing up in the Scott family meant weekends out at Glamis and Dumont riding dirt bikes and dune buggies. In addition to her role with Lazer Star, Suzi has two daughters that also enjoy riding dirt bikes. In a family full of Honda riders, Suzi is the blue sheep on her Yamaha YZ250R. Riding and racing is in her blood, and as a result youll rarely see the Lazer Star rig at an off-road event without seeing Suzi there with a smile on her face. Drop Suzi a line at suzi@lazerstarlights.com.