Lazer Star Lights now offers four mounting options for theirBillet LightsLine of driving and signal lights for Harley-Davidson and metric cruiser applications.
These mounting options with the Billet Lights' variety of shapes, finishes and technologies afford cruiser motorcycle owners a variety of configurations.
Samples are available for media evaluation.
Lazer Star Lights has expanded their offering of fitment options for Harley-Davidson and metric cruiser models. Various mounting options now allow the installation of Lazer Star's Billet Lights in numerous configurations on motorcycle applications.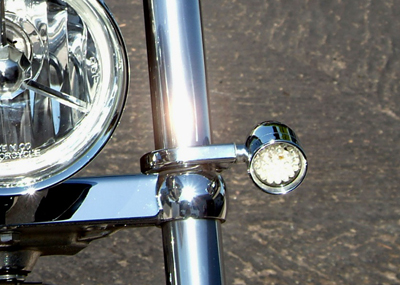 Lazer Star's multiple mounting options allow motorcyclists various lighting configurations, like the LED signal light mounted to the fork tube pictured here.
Lazer Star Lights first produced the ever-popular Bullet style driving lights and turn signals for motorcycles in 1993. Today known as their Billet Lights Line, Lazer Star continues to innovate in order to make the best lighting technology available to all motorcyclists. Recently expanding their offering of mounting solutions, cruiser motorcycle owners now have a variety of options when setting their bikes up with driving lights and turn signals. The mounting options offered in the Billet Lights series include the following:
Rigid Mount, most popular in amber or red LED, is designed to easily upgrade factory rear and front signal lights.
The Pivot Mount, standard on all Driving Light Kits offers 4-way adjustment for dialing in precisely where you want your lights to shine.
Both the Rigid and Pivot styles are ideal for mounting to 39mm, 41mm or 49mm fork tube clamps or 1.25" engine guard bar clamps.
The Patented Diamond Base mates with stock light bars on many H-D motorcycles and can be used with any driving light or turn signal.
The Handlebar adaptor is the newest member of the Billet Lights series, and allows riders to mount Micro B driving or signal lights to your bike's handlebars utilizing the factory mounting point. This configuration is only applicable to Harley-Davidson Sportster, Dyna and Softail models.
These options give riders the ability to mount their Billet Lights driving and turn signals in a variety of locations on their bike. Specifications and Features include:
Billet Lights available in Bullet, Shorty, Micro B and XS housings
Driving lights available in 35 watt or 50 watt Halogen, special orders of 75 watt
Signal lights available in single filament halogen or dual function LED
Light housings machined from high quality 6061 billet aluminum
Stainless steel mounting hardware and wiring included
Available in chrome, black anodized or polished finish
Load equalizers, wiring kits and electronic modules available for best results
All mounts and lights Made in the USA
Limited lifetime warranty
Lazer Star Billet Lights are available direct from LazerStarLights.com or throughParts Unlimited,Drag SpecialtiesandBiker's Choicedealers. To see a complete list of mounting options, light/mount compatibility and finishes, visitLazerStarLights.com. Join us onFacebook,TwitterandInstagramfor more updates and promotions.