Enter the Lazer Star Lights #TagYourRig Instagram Contest!
Spring is here and it's time to get that off-road machine out of the garage and out on the trails! Get your rig ready for all-night fun by entering the Lazer Star Lights #TagYourRig photo submission contest! All you have to do is follow @LazerStarLights on Instagram, post a photo of your rig on Instagram and be sure to tag #LazerStarLights and #TagYourRig. You can submit up to one valid entry per day through June 6, 2014. One winner will be selected at random and awarded a set of four Lazer Star Dominator 4" HID lights! Please see complete rules and details listed below. We look forward to seeing your submissions and lighting the way for someone's summertime fun!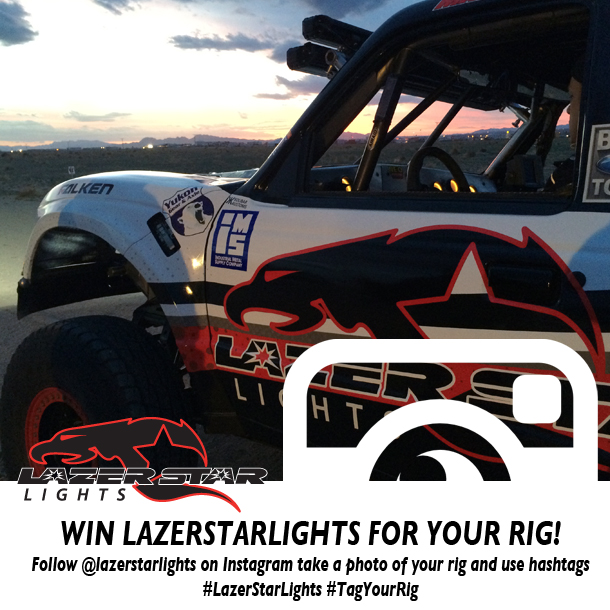 Rules:
By entering this contest you agree to the terms and conditions listed below.
This contest is open to US residents only, age 18 years and older. No purchase necessary to enter.
Valid entries will be accepted between May 21, 2014 and June 6, 2014.
You may enter up to once per day with a valid entry.
A valid entry is considered a unique photo of your vehicle submitted to Instagram in the contest time period, with #LazerStarLights and #TagYourRig in the description/caption.
Invalid entries are considered: photos posted before or after the contest period; posts that do not include both hashtags; multiple posts using the same photo.
One additional entry may be earned by filling out the contest form found here.
Inappropriate, obscene, threatening, dangerous, or abusive content is not permitted, and those entries will be disqualified. No spam or unlawful content is permitted. All content must comply with Instagram terms of use.
If you are awarded the prize and are unable to claim the prize, there will be no substitute or compensation. The prize is non-transferable and cannot be redeemed for cash.
The winner will be selected at random and notified no later than June 10th.
Reader Comments (1)
aarp
03/26/17 05:00:38 AM
Post Comment
You must login to post comments.