Lazer Star Lights -
LX LED Headlight Upgrade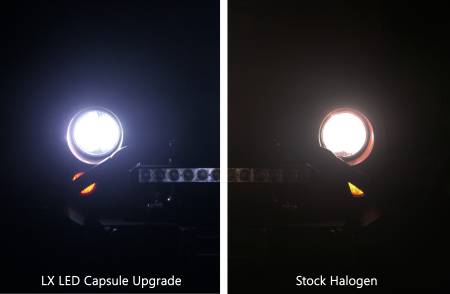 An upgrade that makes the world of a difference was never so easy. This plug 'n' play LX LED headlight capsule directly swaps out with your pre-existing halogen bulb for a simple and quick installation.

The LX LED H13 Headlight Capsule fits any Jeep JK from 2008-2016.
Browse LX LED Headlight Upgrade
Products
NEW!
Lazer Star Lights, Cree, LX LED, 9004, High-Low, 5750430, Headlight, Upgrade, 818174019564
Description:
40 Watt 9004 Base High-Low Cree X-ML LED Capsule Sold as Pair
NEW!
Lazer Star Lights, Cree, LX LED, 9007, High-Low, 5750730, Headlight, Upgrade, 818174019571
Description:
40/20 Watt 9007 Base High-Low Cree X-ML LED Capsule Sold as Pair
Lazer Star Lights, Cree, LX LED, H13, High-Low, 5751340, Headlight, Upgrade, 818174018987
Description:
40 Watt H13 Base High-Low Cree X-ML LED Capsule Sold as Pair
---